Monday to Saturday - by appointment, 1 mile outside Dunmanway.
Phone +353 86 300 1711
Email jrfeelingsounds@gmail.com
Address: Cloontiquirk, Dunmanway, Co. Cork
Alternatively please use our contact page Contact us
Mastering your mind and thoughts with sound healing.
The Latest News at Feeling Sounds
Relaxing Meditations: Growing into Silence
The current set of meditations concentrates on different aspects of the body from week to week. Although there's no mantra work in these meditations, the sessions use calming and relaxing visualisations and provide a specific mantra for each part of the body for use during silent meditation.
The sessions take the format of relaxation, breathing exercises and then a long period of Tibetan bowls with periods of silence. The course runs from January 22nd for 10 weeks (excluding mid-term and Easter breaks).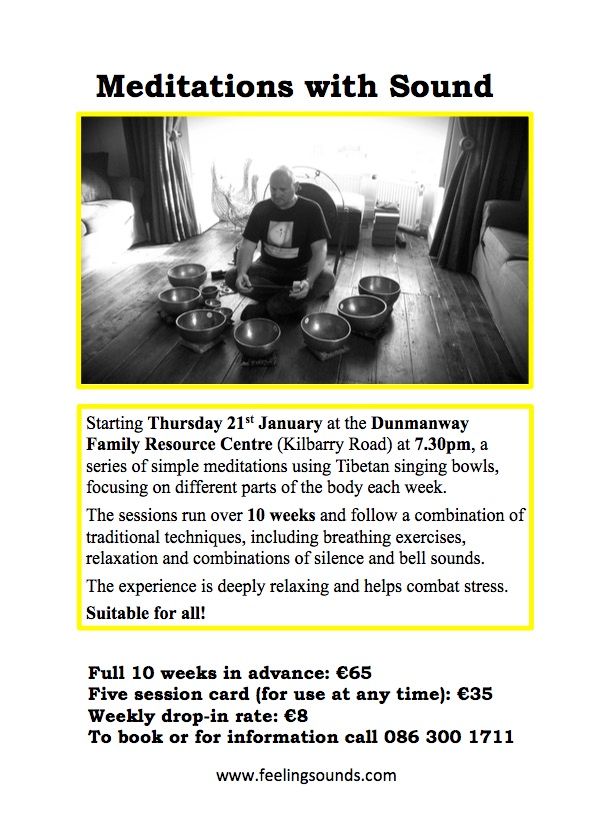 One Week to Go until a Calmer Christmas
So excited that this is only one week away. We're going to be doing all sorts of exciting exercises and meditations as well as pondering the nature and source of meditation.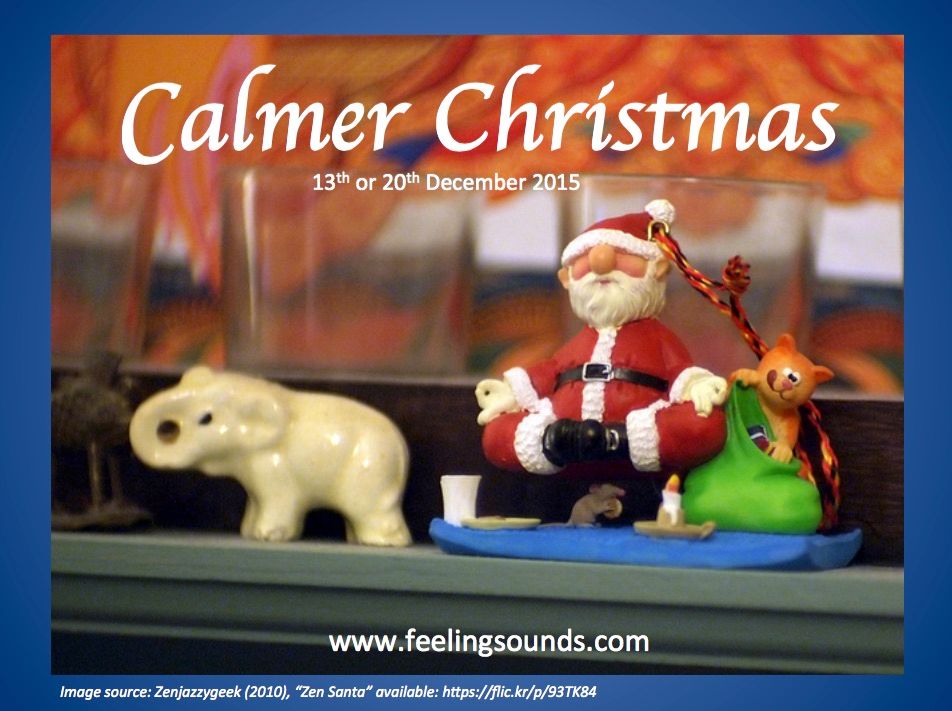 More Workshop Dates
The Calmer Christmas is fast approaching and I'm delighted to say that 13th December is nearly full! Due to popular demand I have added an extra date on 20th December which is proving to be just as popular. If you fancy a few hours to explore meditation and the tools we use to enjoy it, then drop me a line to find out more.
I have set the theme for the workshops around some of the popular teachings of HH Shantanand Saraswati. Though I don't subscribe to any particular religion or religious practice, it helps to use the schooling and example of revered religious leaders to understand fully how meditation can help us on our journey to peace, a calmer state of mind, and realisation of the true nature of our existence.
Random Relaxation
As we near the end of the latest 10 week sessions at the Dunmanway Family Resource Centre, we experienced a new and freer traditional meditation. Chanting Ahum Brahmasmi is powerful enough but combining it with intuitive performance on the bowls led to a new experience for meditation in the group.
Following the very positive response to this practice, there will be two sessions using this framework. These will take place on 3rd and 10th December. Although the meditation is more "free-form" than the previous sessions, it will take the same format as a general session but has a much more intuitive feel about it.
Pricing structure remains the same. Drop-in rate of €7 and multi-session cards apply.
Getting Ready for Christmas
It's that time of year again! As we head towards Christmas the stress levels start to rise and we all feel a little extra sensitive. In the coming weeks there will be a short three hour session to combat some of this stress. Keep an eye out for further details. Projected date looks like the 13th December but not confirmed as yet.
Workshop at Turner's Cross Community Centre
On 20th September there was a workshop introducing participants to some basic meditation techniques and breathing exercises. It was a small group but intense and very rewarding for me.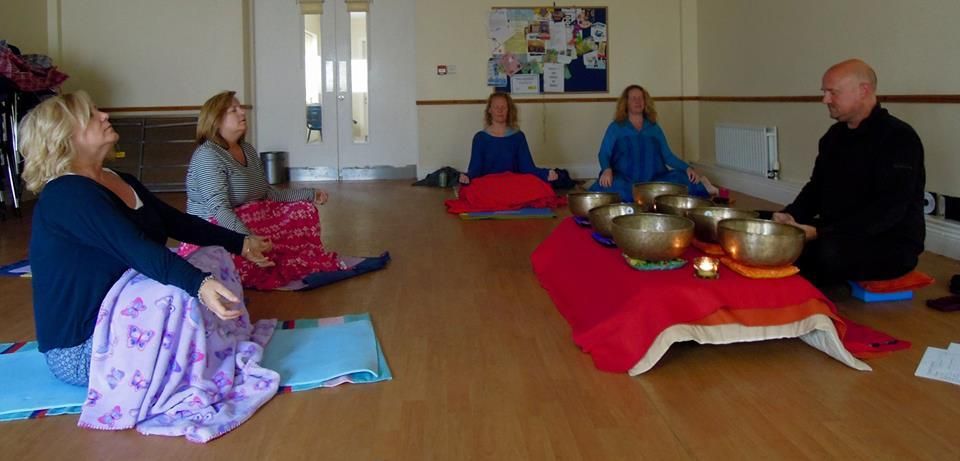 Some of the feedback was so touching:
"I thoroughly enjoyed the day and got what I needed. Thank you. I felt very supported and held. You have a very authentic way of working." Grainne, Cork
"Julian is very attentive and tuned in and is very capable of holding a space. I've experienced a number of practitioners who take you on guided visualisations but don't fully underant and leave you off, which is unsafe. Julian, along with the bowls, is able to hold and support the space and each participant as they let go and allow the healing in. He is a gifted healer and very knowledgable about and in tune with his craft. Like the bowls, he has a subtle, powerful way of resonating with participants, empowering each and giving each permission to live fully their own truth." Deirdre, Cork
New Family Resource Sessions
The next ten week block of sessions will start on Thursdays at 7.30pm from 3rd September at the Dunmanway Family Resource Centre. This group of meditations will focus on chakras and their Vedic mantras. These mantras are simple one word sounds that create a great sense of relaxation.
Pricing: ten weeks for €59; five sessions card, valid for two calendar months so you can come and go as you please €30; drop-in rate €7.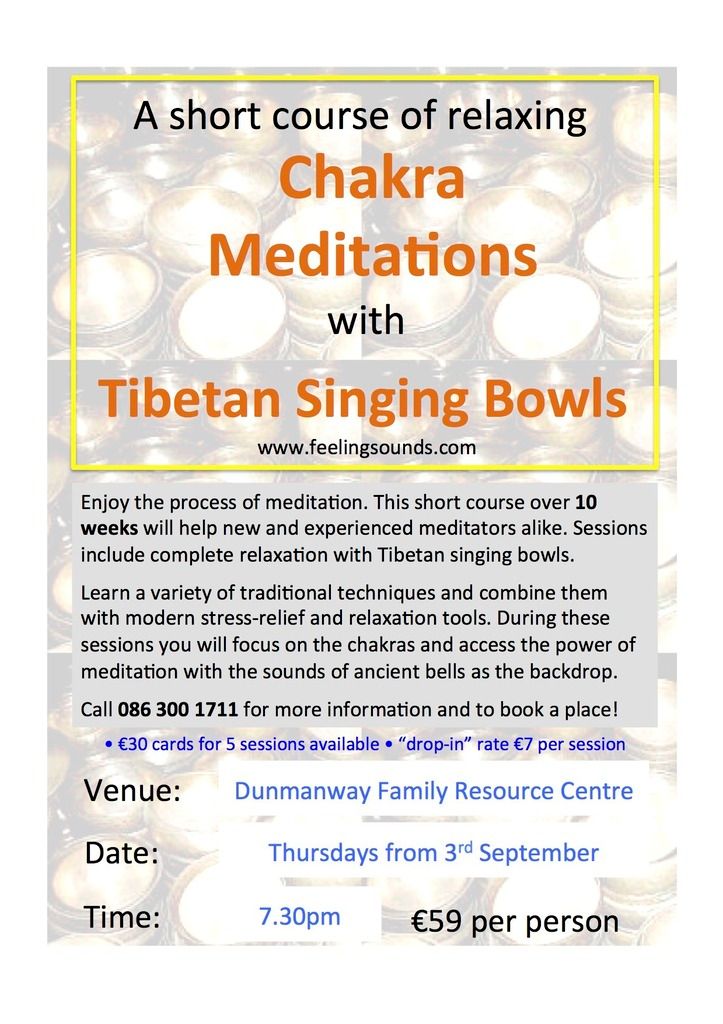 New Arrival in the Online Shop
I'm delighted to say that the album "Complete Chakra Balance" has now been added to the online shop!
Day Two: West Cork Yoga Festival
After such a buzzing day on day one I was really looking forward to day two. Unfortunately the rain poured down but this didn't seem to dampen the spirits. I turned up early(ish) on the Sunday and people were clearly feeling a little waterlogged. This weather didn't stop people turning up for a beautifully relaxing session. We sat in Two Rivers and about 40 people enjoyed a deep meditation using the Medicine Buddha Mantra. During the meditation we focused on the power of the mind and creating a flourishing plant from the sandy soil at our feet.
The evening saw the closing ceremony. Clair Lalor led a stunning bit of mantra singing and we danced what seemed to be the Hokey Cokey with bells on in a foreign language! Lots of fun. I had the honour of bringing the energy back to our centres with a short bell meditation for the whole group (about 100 people). Everyone lay on the ground and enjoyed a grounding experience as I sounded a complete chakra balance.
Wonderful weekend. Wonderful energy. Wonderful to look forward to next year!
Day One: West Cork Yoga Festival
Yesterday was a wonderfully mild day in an unusually sunny West Cork! The first of my sessions was a 90 minute talk in the morning. Well, this being Ireland, most people turned up at about 15 minutes past the scheduled start time. No hassle. This is a free and easy weekend. A lovely group sat calmly and listened to me talking for about 15 minutes until I suggested a short meditation on each chakra. Everyone was up for that! We had a lovely chilled time...
By the time the afternoon session came around new had spread about the effects of the bowls. I was scheduled to give a 60 minute meditation in the "Tipi". It's literally a tipi and I was expecting a small group and for the sound to dissipate liberally. 25 minutes before the scheduled start time there were people creeping in and reserving their space on the floor. Five minutes before we were due to start there were about five to ten people lying on the floor outside the tent and maybe thirty-five people indside! The atmosphere was electric. Such a lovely warm and welcoming group, all up for the experience of meditation with the bowls.
A wonderful first day. Back for more today and it's windy and overcast. Buy, hey, we make the sunshine in our heads, don't we? More to come...
Find out more about the West Cork Yoga Festival on their Facebook Page!
Mantra Workshop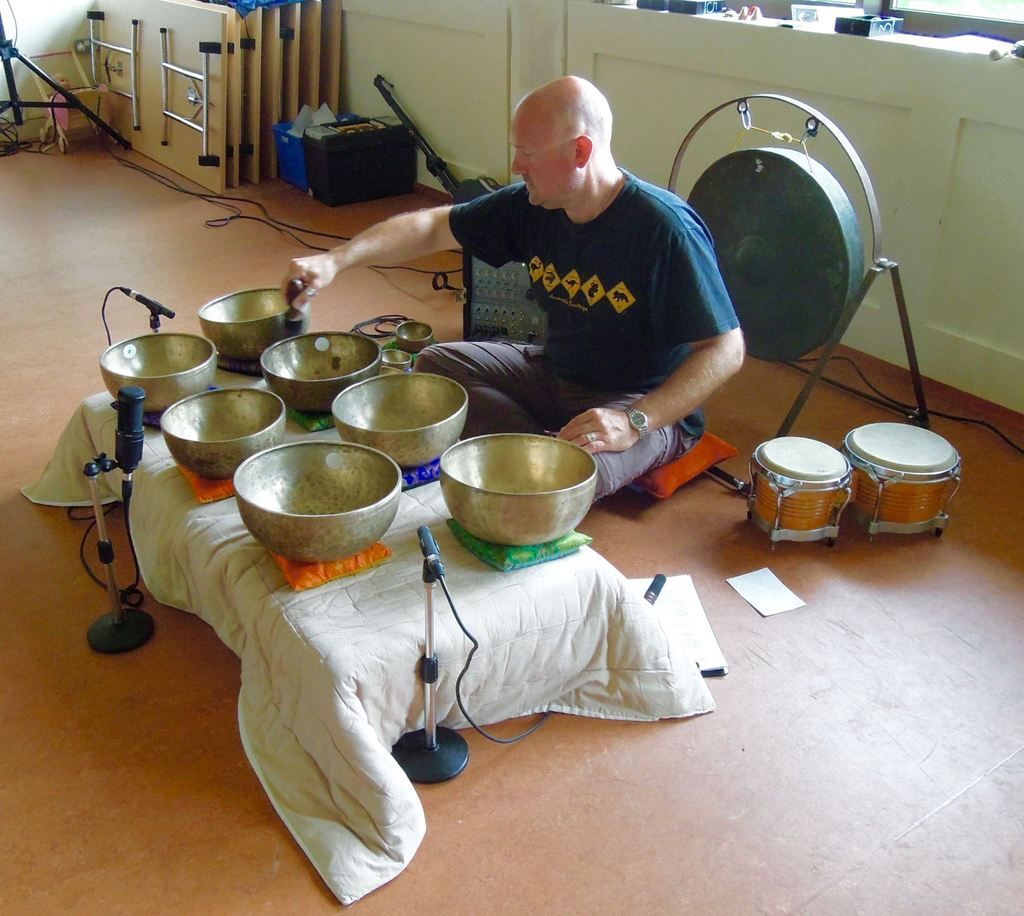 Last Sunday a group of like-minded individuals gathered at the Family Resource Centre in Dunmanway for a relaxing day of meditation and mantras. We practised both the Ganesha Ganapta mantra and the Medicine Buddha Mantra. Everyone joined in at the top of their voices. Thank you so much for a beautiful experience!
New! Digital Downloads
I'm excited to announce that recordings of the meditations are now available as digital downloads via the online shop on this website. Alternatively you can visit my artist page.
Midsummer Meditation
There will be a meditation gathering to practise the mantras covered in the last two ten week blocks. This will take place on 26th July and include both the Ganesha Ganapta mantra and the Medicine Buddha mantra. There will be some new stuff too!
West Cork Yoga Festival (Ballydehob)
Feeling Sounds will be featuring at the West Cork Yoga Festival running over the August Bank Holiday weekend. See the programme for further details.
Medicine Buddha Mantra (10 week course)
The next 10 week mantra meditation course runs from Thursday 23rd April at the Dunmanway Family Resource Centre. This course focuses on the incredibly soothing Medicine Buddha mantra and promotes health and wellbeing, physically and mentally. Enjoy the intensely relaxing experience of learning a group chant and then relaxing to the sounds of the Tibetan singing bowls. Sessions take place weekly at 7.30pm and last approximately 45 minutes to 1 hour. Bring a cushion, a blanket, and some water.
The 10 week block costs €55 in advance. Alternatively you can drop-in at a rate of only €7 per session. 5 session cards are also available for €30 and valid for two calendar months.
Health and Wellness Day Roscarbery
I had a great day at the Celtic Ross Hotel on Sunday 8th February. There was a huge variety of people visiting the event. Throughout the day CDs were on sale and taster treatments allowed me to give a small sample of how a treatment works. The next fair is in Bantry on 8th March 2015. I have been talked into giving a short healing heart meditation at 2pm! Really looking forward to that.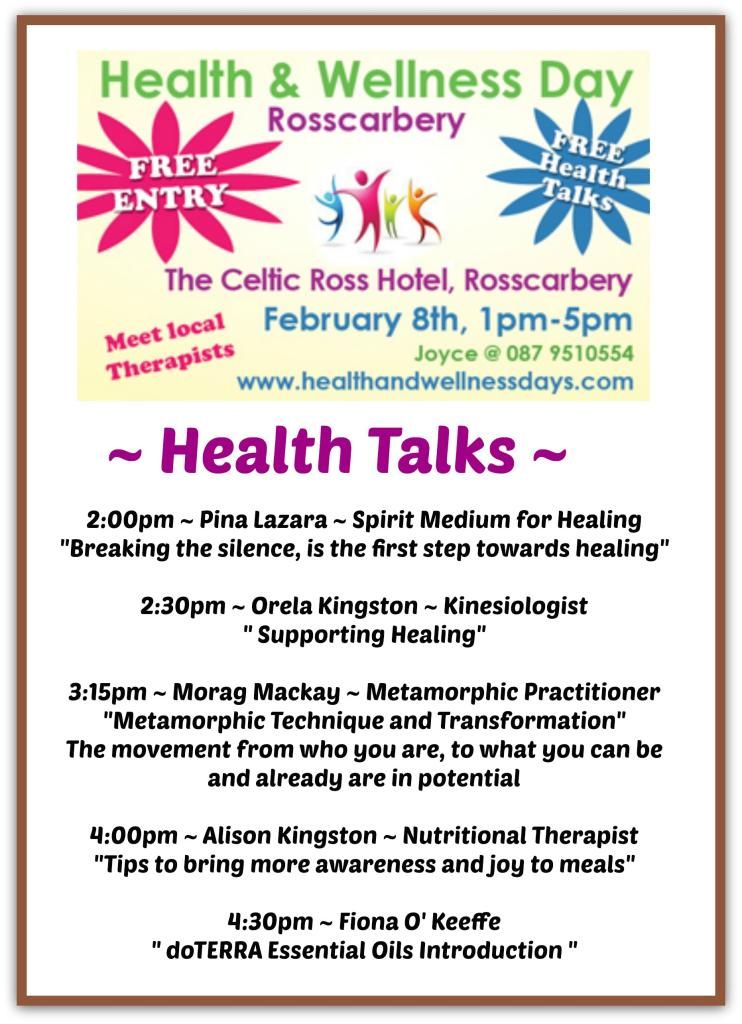 Ganesha Ganapta Mantra (10 week course)
A new 10 week course started on 22nd January 2015 (delayed due to bad weather!).
During this course the group will learn the Ganesha Ganepta mantra. This is a useful mantra for clearing obstacles and making room for love as we move into 2015. Sessions run on Thursday evenings from 7.30pm at the Dunmanway Family Resource Centre. The sessions include a breathing meditation, mantra chanting, and a very relaxing sequence with the bowls. Each week the focus will be on a different chakra.
Pricing for this set of meditations is €50 for the entire course (still cheaper than paying by card or "as-you-go" until 26th February!), €30 for a 5 session card which is valid for two calendar months, or €7 drop-in rate per session.
Group Meditations Restarting at the Dunmanway Family Resource Centre
I'm delighted to announce that weekly group sessions will be restarting on Thursday evenings at 7.30pm and Friday mornings at 10.00am from the 4th and 5th September respectively. Each session will last 45 minutes (though when we get chatting about deep and meaningful stuff they have often gone over the 60 minute mark) and cost €6 per session or €25 for a block of 5. The block ticket allows you to choose any 5 sessions so you can swap between evenings or mornings or even go twice in one week if that's your choice. The block ticket is valid for two calendar months from purchase.
There is no need to book places but it would be helpful to know who is interested in coming to mornings or evenings in the first instance!
Coming Soon! Online Store!
People want to access the power of a peaceful mind more and more. Part of the drive towards this accessibility is achieved by recording the sounds of the bowls and combining them with guided meditations or simply including them in peaceful compositions using natural sounds as a backdrop.
Julian comes from a musical background, has worked as a recording musician and now offers a range of recordings to attendees at his sessions. These recordings will soon be available via download from iTunes and there are plans to offer online sessions and courses. Updates to follow.
Current releases include:
A Journey Through the Chakras CD 1 - the External Journey (Root, Sacral, Solar Plexus, Heart)
A Journey Through the Chakras CD 2 - the Internal Journey (Throat, Third Eye, Crown)
Complete Chakra Balance - 28 minutes of guided meditation
Rain - the beautiful sounds of the bowls accompanied by the sea, the rain and the dawn chorus
Meditations to Kickstart Your Karma
We had a lovely and relaxing day at the Dunmanway Family Resource Centre working through a series of exercises focusing on stretching, breathing, attention and pure meditation. The group met on Sunday 20th July and undertook a variety of activities from 11.00am until 3.30pm.
Lunch was a very easy going affair sitting outside in the sun. The venue proved to be the perfect choice for a stress busting day of inner peace...
New Meditational Artwork
Feeling Sounds has now benefited from the donation of devotional Thangkas from an old friend who has taken the bull by the horns and moved to Thailand.
Mark Barron has realised a lifelong dream of pursuing his deep seated Buddhist beliefs on a more fundamental level. He has previously spent time experiencing the monastic life at the Kopan monastery in Kathmandu, a wonderful monastery I have also visited. I wish Mark all the best and thank him from my heart for his kind gifts. They will be put to good use.
Meditations from the Heart
A course ran at the Dunmanway Family Resource Centre from 8th May. Running for 8 weeks the course focused on various aspects of heart meditations and how this vital chakra can influence, colour and control our emotions and thoughts.
The heart is such a flexible chakra and guides us as the junction between the internal and the external worlds.
Amongst other things we explored how pronunciation of different mantras can direct the energy to different parts of the body.
A Journey Through the Chakras
A course of 10 weeks started on 1st March and helped with awareness of how the chakras influence our daily lives. This was a beginners' introduction to meditation, though the attendees had experienced meditation at various levels.
The mixed range of experiences of the group led to some fascinating discussions and the practice branched out into mantra chanting. It was a really rewarding and enjoyable course!
¨¨¨¨¨¨¨